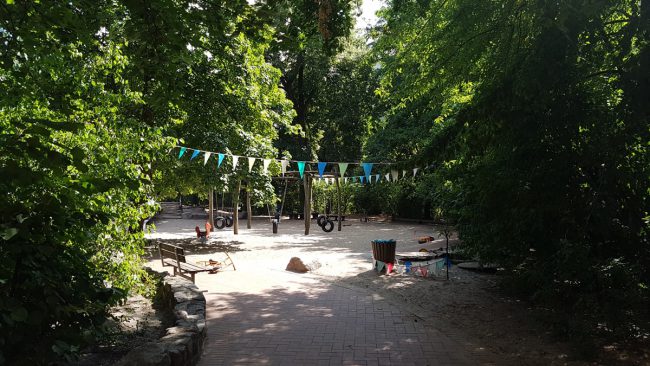 Schools and kindergartens become green oases in the bustling city of Berlin
The special thing about "Grün macht Schule"- projects, Berlin
August 2019
Summer vacations offer great opportunity to make new discoveries and can be a great source of inspiration. In August 2019 I had the wonderful chance to meet the team of "Grün macht Schule" and received insights into their green school projects in my hometown Berlin.
On this hot summer-day we visited Kindergarten Reuterstrasse in the densely populated district of Berlin- Neukölln. The Landscape architect and "Grün macht Schule"- coordinator Manfred Dietzen designed the outdoor area with multiple playgrounds in 2008 with participation of the kindergarten community.
Arriving at the entrance, I was glad to escape the sweltering heat of the streets and sidewalks. We followed the chattering sound of children's voices and ended up directly in the unexpectedly green and pleasantly cooling garden of the institution. One had the relieving feeling of entering a park-like oasis in the middle of a block of tenement houses.
Here's why "Grün macht Schule"- projects are special
A natural landscape design which splits the garden into small activity areas offers the children many possibilities for free and individual play. New situations or surprises are behind every corner. Thus, the garden appears much larger.
Different floor coverings promote tactile skills of the children, some of whom walk barefoot. While playing, children learn to react to small, deliberately planned bumps, walls or obstacles in a natural terrain rather than moving around on artificial concrete schoolgrounds.
A variety of trees and shrubs offer pleasant shade as children whirl through the garden, sway, slid, play and muddle in the sand, hide in bushes or nibble the gardens raspberries.
500 projects initiated and implemented in Berlin schools
According to "Grün macht Schule", there are many schools in Berlin which are dominated by bare and rather functionally designed concrete surfaces. These monotone and unprotected school environments do not seem inviting or appropriate for some creative and age-appropriate outdoor activities of children who spend at least up to 15000 hours of their school life in these surroundings.
With this in mind, the "Grün macht Schule" team transforms grey kindergartens and schoolyards into ecologically valuable, creative and age-appropriate environments successfully for 30 years in cooperation with the governmental institution of the Berlin Senate Department for Education, Youth and Science.
By employing the "Design standards for planning and construction of outdoor installations at schools in Berlin", schools or kindergartens enjoy funding from the government by minimizing their own financial impact.
With such high-quality design standards for open spaces and outdoor-educational concepts these institutions contribute to ecological greening, rainwater retention and improvement of the microclimate of their neighbourhoods, as well as to the promotion of social interaction and nature protection through student's participation.
What better way can you imagine caring for children's fundamental rights of play and applied learning outcomes in a dense city ?
Leaving the green grounds of this wonderful kindergarten in Neukölln, the teachers emphasized, that after all these years, the garden with its original conception, still supports their daily work.
Over the past years, the garden has grown dear to their hearts as a green oasis for children in the middle of a residential area.
What a great learning for my work here in Singapore and Asia! Hoping to see you again soon, "Grün macht Schule"- team!