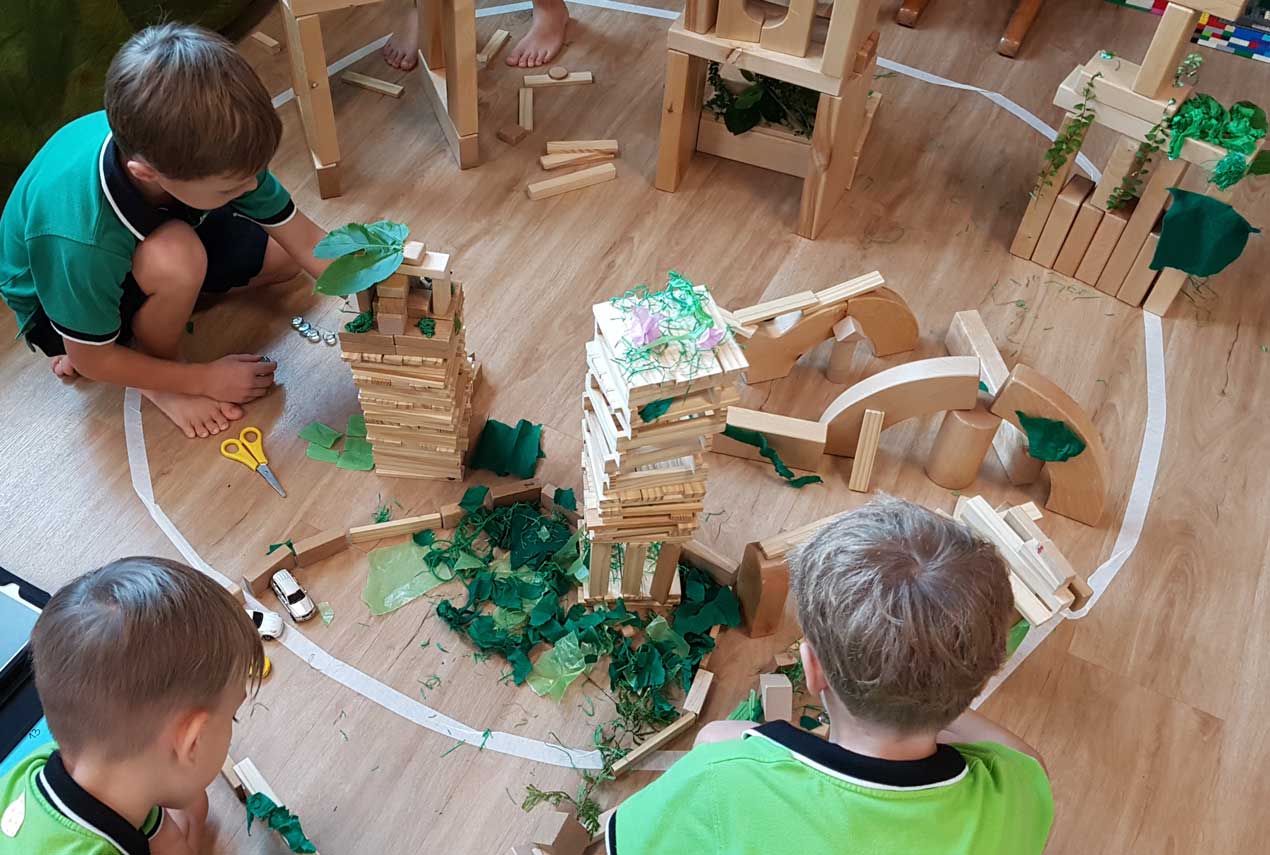 Buildings get a green dress
Children create their dream city
Learning journey for preschool children at German European School Singapore
June 2020
Tropical Singapore can be extremely hot and the children of the pre-school "the Gecko's" at German European School Singapore (GESS) can confirm, what hot outdoor temperatures in Singapore mean.
During an excursion to the city center of Singapore they experienced the temperature difference between asphalt-covered areas in comparison to green and shaded areas. They felt much better in a park with shrubs and trees and were happy to take a break in the cooling greenery where they could run around and play. During this excursion they also saw climbers crawling up the façade of a high- riser building or big trees growing on a roof top of another building and were wondering how these plants got on this building...
Why do some buildings have a green dress?
Based on these experiences, the Gecko kids wanted to inquire some driving questions within their Primary Years Program (PYP)- unit: "How the world works"
Why are the asphalt areas hotter than areas covered with green grass? Why is it getting cooler when we enter a park with many trees? And why do plants wrap some buildings as if they had a green dress on?
The teachers of the Gecko class invited me to find answers together with the children and to look for an approach to turn freshly gained knowledge into hands-on activities.
Before we went into theory, the children investigated their own schoolyard for green spaces and measured the ground-surface temperature of green, shaded, and cool areas in comparison to some sun-exposed and hot spots at the schoolyard. They could read immense temperature differences and tried to explain these findings.
Project day with good discussions and a builder workshop
I visited the Gecko-class for a project day to work out answers to their questions. I prepared an age- related presentation in which I explained the phenomenon of urban heat islands with supporting images and satellite views or a thermal map of Singapore.
The children learned that hot solar radiation heats up the densely built concrete mass of the town, but vehicles or the heat of the many aircon systems additionally contribute to heat the city.
They explored why trees and green spaces in this city are so important for cooling of the environment and the well-being of the citizens.  We also worked out that land scarcity encourages city planners and architects to find creative solutions with clever greening strategies to cool the buildings as a way to make cities also more biodiverse and livable.
The children recognized a few popular green buildings of Singapore in my presentation and together we studied how they were ventilated and greened with façade climbers, greened terraces or roof tops.
We derived knowledge and drew simple housing types with attached green. It was amazing how detailed some children had observed the environment during their field trips and how precisely they could share their observations with their peers.
Since the children had gained so much knowledge and became little experts it was time to move on and to something hands-on. What was closer than building our own green dream-city?
Let's build our dream-city
The children were excited and started collecting all sort of materials for this activity. They formed teams and used the materials prepared: wooden blocks, fabric, green freshly cut plants from the maintenance team, sticks and dry leaves from school grounds, glass nuggets and so on. They were unstoppable in their enthusiasm and had quite clear ideas which they wanted to bring into shape.
Amazing buildings and high risers grew in a noticeably short time with cooling elements such as open facades, decks and balconies and green facades or roofs. Playgrounds and swimming pools could be found and many trees shading the surrounding of the buildings.
After that session, the children presented their "city-scapes" and buildings to each other. The teachers had to provide additional playtime in the afternoon because the children simply wanted to play with their creations.
Sharing findings and knowledge with children of other classes
The Gecko-children decided to invite two other preschool-classes to proudly introduce their project.
They re-used my presentation slides and shared their findings and conclusions in their own words. It was amazing how many details they had kept and in what flow they could explain to their classmates. Proudly, they showed their construction sites afterward.
The other children got infected by the enthusiasm of the Gecko-class and quickly a large new building site in the hall of the kindergarten was created.
A wonderful continuation of this project would have been, that the children plant their own green outdoor wall feature for the courtyard of the kindergarten.
Asking questions to find answers
This project showed impressively the importance and reflection of real-world experiences for the children to understand positive but also challenging aspects of their direct environment: in this case the complex and densely built city of Singapore.
Based on their own reflections and hands- on activities, the children learned to appreciate the presence of green parks, especially trees in a concrete dominated city. They further learned about the importance of green buildings as smart solutions and got sensitized to see their city from another point of view. A city-map of green buildings will help them in the future to identify greened high risers or accessible roof terraces in the future when they explore the city with their parents.
This will contribute to raise environmental consciousness in their future.