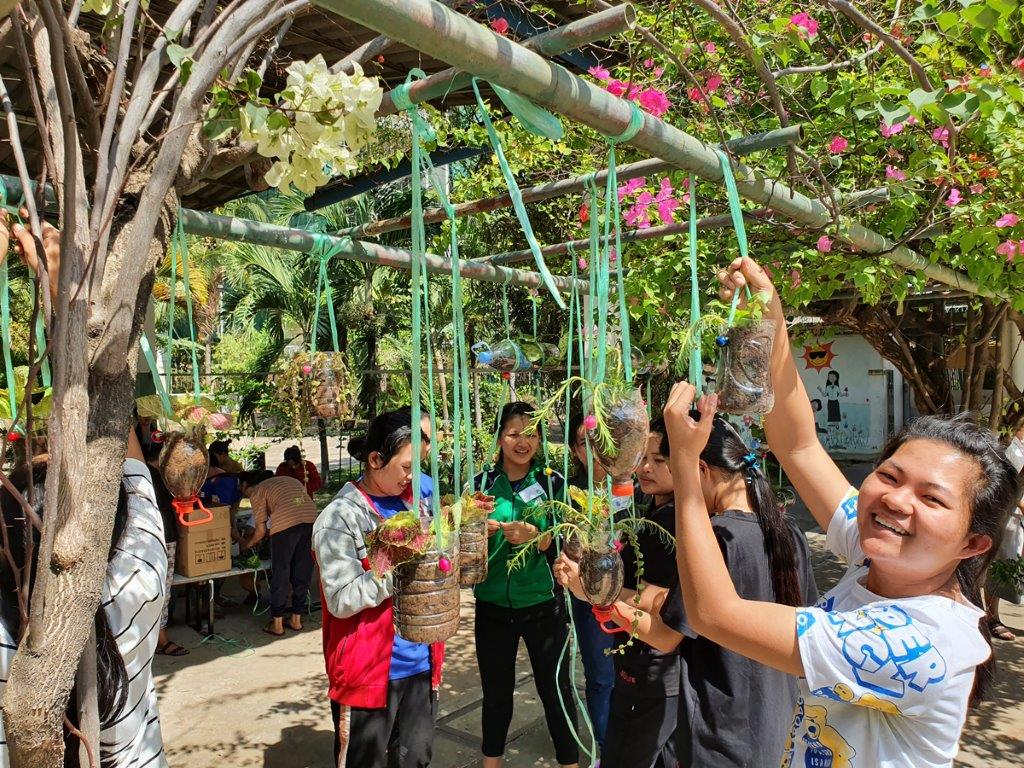 Environmental awareness begins with a comprehensive educational curriculum
Establishing curricular environmental education combined with a sustainable school development conception at Don Bosco Vocational Trainings Centre in Phnom Penh, Cambodia
March 2020
Just before COVID 19 lock down measures I visited Phnom Penh and witnessed the rapid urbanization process which the capital of Cambodia currently undergoes. Besides enjoying the advantages of getting  modern infrastructure and better education- and income opportunities, city dwellers are currently facing enormous challenges of traffic jam, air- and water pollution, the lack of greened recreational areas or a poor waste management. .
Challenging living conditions for children
Especially children are daily confronted with these harsh living conditions: they live in neighbourhoods dominated by high traffic and experience the unhealthy effects of a poor waste management. They seldomly find protected areas and opportunities for their outdoor play. Children of this city still witness that littering is a normal attitude and hardly being questioned, neither in families nor in schools. Parents, communities, and educators usually do not have the background to raise environmental awareness.
Facing these challenges, and being motivated by the "Encyclical letter Laudato si', of the holy father Francis, on care for our common home", the Salesian Sisters of the Don Bosco Vocational Trainings Centre decided to make a difference by starting this innovative project offering both students and teaching staff knowledge in environmental education.
Empowerment of young women through meaningful education
In this institution, 200 young women from under privileged families receive a two-year vocational training in accounting and computer technology, boosting their start into their professional life. The empowerment of girls through comprehensive education concepts plays a crucial role for the Salesian Sisters at the Vocational Trainings Centre in Toul Kok. Especially young women should get a chance to be enabled to play active roles in future decision-making and nation-building processes.
Workshop "Our common world in our hands"
A two days' environmental workshop for students and teachers held by touchgreen kicked off in March 2020. After analysing their living conditions, participants got briefed on a critical evaluation of their surrounding urban environment. Challenging each other, they studied the differences between both an intact natural ecosystem and the altered urban ecosystem. In power point presentations they shared their results and concluded that humans as part of the natural environment benefit from the services delivered by nature. Students further derived their own values and discussed, how to link individual responsibility to environmental protection in their school and neighbourhoods.
Creative hands-on sessions and outdoor activities focussing on nature appreciation and social interaction provided an open and communicative atmosphere, where the girls felt comfortable to communicate in English, express feelings, and exchange insights on how their future living environment should be designed.
In a second phase of the workshop, participants defined goals and achievable activities for their own contributions, within their school environment, families, and neighbourhoods. They studied and adopted the UN development goals as a guidance.
Environmental education combined with a sustainable school development concept
Based on the positive feedback of the students, teachers, and directors, it was decided to move on from this workshop and establish a project framework within the next months to systematically integrate environmental education into the regular curriculum. This includes teacher trainings, conducting environmental learning seminars with assessments for the students and an individual project scheme that will hopefully raise awareness and foster environmental understanding.
A sustainable school development framework plans for energy- and water saving improvements of facilities, the integration of photo voltaic system, a recycling system for plastic, paper, glass and metal, and a composting facility. Further, the schoolgrounds will be developed and improved to cater for individual, recreational but also community activities. The flexible integration of green classrooms will provide for COVID 19 related social distancing measures when the school will be open again.
Let's get active: "Yes, we can!" - active involvement creates positive change
An active participation system within this framework ensures that students will apply theoretical knowledge and skills gained in workshops and environmental learning seminars directly in individual projects which will be beneficial to the school environment or the neighbourhood community. In this way, students will learn that even small initiatives will directly create a positive impact.
These experiences will be meaningful when the students leave the sheltered home of Don Bosco one day and contribute towards environmental awareness and protection at their workplaces, families, and communities in Cambodia.
touchgreen is delighted to embark with expertise and enthusiasm on this meaningful project to support the passionate and forward-thinking Salesian Sisters, teachers, and young women in the establishment and gradually implementation of the concept!